Si vous n'êtes pas un habitué de ce blog, cliquez ici pour quelques explications et définitions...
Nom de la salle:
Le Cabaret Picadilly
Emplacement:
# de joueurs:
2-6 (jouée avec 6)
Durée:
60 min
Langue:
Bilingue (jouée en français)
Indices:
Illimités (Donnés via un téléphone présent dans la pièce)
Description officielle:
Vous êtes en 1930 dans un cabaret londonien à l'abandon, le fameux cabaret où la grande diva Emma Albani se produisait en spectacle avant sa mort. Récemment, vous avez appris que le cabaret de la chanteuse sera détruit. Des rumeurs circulent disant que la loge d'Emma Albani aurait été condamnée et introuvable depuis ce jour.
Pour célébrer le jour de sa mort, vous décidez d'aller vérifier par vous-mêmes dans le cabaret. Ce que vous ignorez, c'est que la légende veut qu'à chaque anniversaire de sa mort, les personnes qui franchissent les portes du cabaret ne ressortent jamais vivant. Votre entrée dans la pièce est-elle vraiment une bonne idée? Prenez garde au fantôme d'Emma qui serait peut-être encore entre les murs.
Jouée durant:
Printemps 2017
Réussie?
NON
Verdict:
J'avais déjà entendu parler d'Immersia à quelques reprises, d'abord parce qu'on m'en avait parlé en bien, mais aussi à travers les média, étant donnée l'implication de l'ex-olympienne Roseline Filion dans ce projet. (D'ailleurs, son image est utilisée avec escient sur place et dans la vidéo d'introduction.)
J'ai aussi été attiré par Immersia étant donné qu'ils laissent les jeunes de 8 ans et moins jouer gratuitement. Mieux encore, ces derniers reçoivent une mission bien à eux. Ma fille devait retrouver 9 bagues cachées à travers l'aventure, tandis que mon fils cherchait 9 jetons. Je salue cette très belle idée.
Outre notre défaite (je me demandais comment on pouvait échouer une salle en ayant droit à des indices illimités - j'ai eu ma réponse 😇), la seule ombre au tableau fût que mon plus jeune a reçu une décharge électrique en introduisant son doigt dans une douille vide d'un miroir de maquillage. 😖 J'aurais bien sûr apprécié que les gens d'Immersia bloquent cette douille, mais je peux aussi comprendre que c'est le genre de choses qu'on a du mal à anticiper (d'autant plus que les consignes de sécurité mentionnent déjà les prises électriques, il me semble).
Leçons à retenir: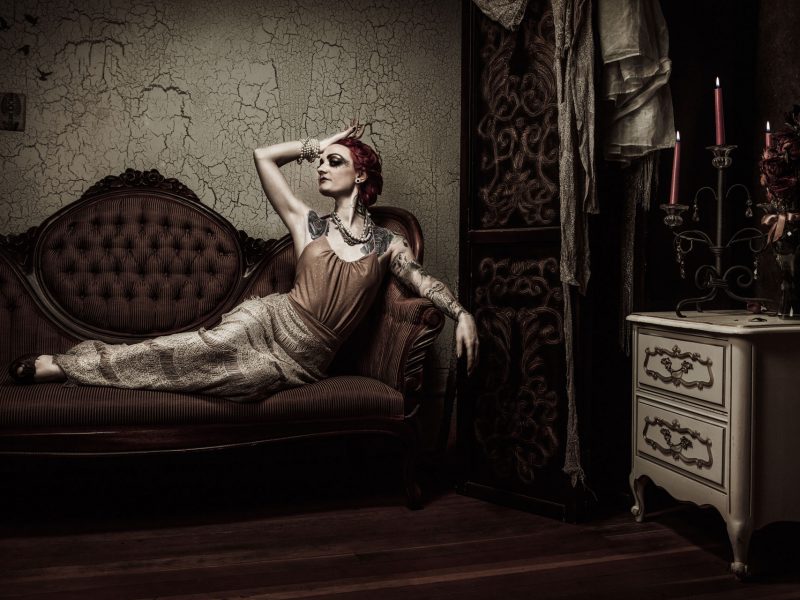 Photo thématique tirée du site web
Flavor picture from their website
If you're not familiar with my reviews, click here for some notes and definitions...
Room name:
The Picadilly Cabaret
Location:
# of Players:
2-6 (Played with 6)
Duration:
60 min
Language:
Bilingual (Played in French)
Hints:
Unlimited (Delivered through a phone located in the room)
Official Description:
You're in a 1930's London abandoned cabaret, the one where the famous diva Emma Albani would perform shows before her death. Recently, you have learned that the cabaret will be destroyed. Rumors are floating around that Emma Albani's dressing room has been condemned and since then inaccessible.
To celebrate the day of her death, you decide to explore the cabaret yourself. What you might ignore is that legend says, every anniversary of her death, the people that enter the cabaret, never come out alive. Is entering really a good idea? Beware the ghost of Emma Albani, it could still be roaming.
Played in:
Spring 2017
Made it?
NO
Verdict:
I'd heard about Immersia a couple times, first because people recommended it to me, but also through the media, due to the involvement of former olympic champ Resoline Filion. (Speaking of her, you can see they've been cleverly leveraging her brand on the site, and in the intro movie.)
I was also drawn to Immersia because they allow 8-year-old-or-less kids to come play for free. Even better, they receive a special mission just for them. My daughter had to find 9 rings hidden through the quest, while my son was looking for 9 tokens. I applaud this awesome idea.
Aside from our failure (I was wondering how people could fail a room with unlimited hints - got my answer 😇), my only disappointment was that my youngest son electrocuted himself by putting his finger inside an empty bulb socket on a makeup mirror. 😖 I would have highly appreciated it if Immersia had blocked that socket, but I can also understand it's not the sort of things one can easily foresee (especially since the safety rules already mention avoiding wall sockets, as I recall).
Lessons Learned: