Dans Une Parodie Près De Chez Vous
NOTE: J'ai reçu un rabais spécial pour cette salle.
Si vous n'êtes pas un habitué de ce blog, cliquez ici pour quelques explications et définitions...
Nom de la salle:
Univers
Emplacement:
# de joueurs:
4-8 (jouée avec 6)
Durée:
60 min
Langue:
Français
Indices:
5 (Donnés en personne, lorsque appelé en faisant signe à la caméra)
Décomptes:
10 verrous, 15 déductions, 15 tâches
Description officielle:
Équipe de sauvetage, êtes-vous prêts? Nous vous téléportons maintenant dans le Ricardo Canard, vaisseau amirale de la flotte spatiale canadienne. Le dernier message de son équipage est sans équivoque; l'astéroïde Cégep Lionel-Groulx se dirige droit sur eux. En effet, leur vaisseau est immobile depuis une panne majeure. Vous devrez donc vous rendre sur place pour tenter de secourir l'équipage du capitaine Campbellsoup ainsi que son vaisseau. Espérons que les plans ne changeront pas en cours de route. La fédération planétaire compte une fois de plus sur la compétence de notre équipe canadienne, première puissance planétaire. Saurez-vous tous revenir sur terre avant que l'astéroïde ne vous détruise dans 60 minutes. Bonne chance!
Jouée durant:
Été 2019
Réussie?
OUI - Un peu plus de 5 minutes restantes - 3 indices utilisés
Verdict:
Or donc, nous sommes toujours à St-Hyacinthe, toujours à L'Emprise, et toujours aussi affamés. 😖 Cette fois-ci, nous nous attaquons à leur salle à plus récente, dont le titre annoncé était "Dans un Univers Près de Chez Vous" avant de devenir simplement "Univers". (Un truc pour éviter l'attention d'avocats zêlés, je présume.) Donc, vous l'aurez sans doute deviné, cette salle fait référence à la
série jeunesse culte du tournant du millénaire
. J'ai utilisé le mot "parodie" ci-dessus, mais après avoir joué, j'y vois vraiment un hommage - une lettre d'amour à des personnages adorés par toute une génération.
Mais cette génération n'est pas la mienne (allez-y, moquez-vous de mon âge, j'ai l'habitude) et n'est pas celle de mes enfants non plus (quoique j'aimerais bien qu'on se les tape en rafale - mais c'est une autre histoire). Je me doutais bien, donc, que nombres de références me passeraient 100 pieds au-dessus de la tête, mais ça ne m'a pas vraiment dérangé.
Notre plus gros problème, dans cette pièce, a été la difficulté de figurer les éléments sur lesquels nous devions nous concentrer en premier. Moi qui viens justement de lire l'article d'Errol Elumir sur ce qu'il appelle
"The Player Loop"
, je peux donc exprimer plus clairement ma pensée en disant que nous avons eu du mal à "choisir le bon portail". (Merci Errol!) Le plus agaçant dans tout ça était que, dû à un problème technique, nous avons eu accès à certains éléments du jeu dès le départ, alors que ce n'était pas sensé être le cas... et notre meneur de jeu a oublié de nous en avertir. 😵
Enfin, bon, quelques indices plus tard, les choses se sont remises en place, et nous avons repris le dessus. Je n'ai d'autre choix que de terminer avec une citation du Capitaine Patenaude lui-même:
« Comme disait le grand Jules César: Oh boy qu'on a passé proche! »
Ah, j'ai failli oublier: à notre sortie, nous avons eu droit à un petit bonjour de Simon & Guylaine des
Fugitifs
, qui profitaient de notre présence dans leur patelin pour nous présenter leur petite famille. C'est ce qui explique la présence de deux "ti-prouts" additionnels sur la photo ci-dessus. 😄
Leçons à retenir (ou à réviser):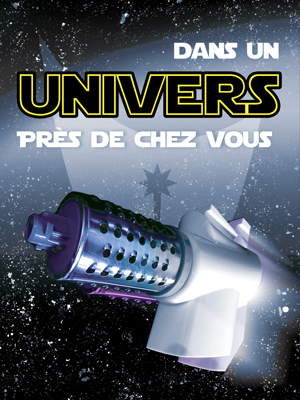 Poster thématique tirée du site web
Flavor poster from their website
NOTE: I received a special discount on this game.
If you're not familiar with my reviews, click here for some notes and definitions...
Room name:
Univers
Location:
# of Players:
4-8 (Played with 6)
Duration:
60 min
Language:
French
Hints:
5 (Delivered in person, when called by waving at the camera)
Tally:
10 Locks, 15 Deductions, 15 Tasks
Official Description:
(See French description)
Played in:
Summer 2019
Made it?
YES - With a little over 5 minutes left - 3 hints used
Verdict:
So here we are, still in St-Hyancinthe, still visiting L'Emprise, and still starving. 😖 We would now be tackling "Univers", a room initially announced as "Dans un Univers Près de Chez Vous" ("In a Universe Near You") before being shortened, most likely to be left alone by lawyers. Now, since you're reading this in English, you probably have no idea what I'm referring to, this room is an obvious reference to a
mock SF TV series that became a hit with Millennials
. I'd expected some sort of parody, but the game really felt like an homage - a love letter to a bunch of characters loved by a whole generation.
But said generation isn't my own (as my Millenial friends love reminding me) and it isn't my kids' either (although I still want to set up a binge watching session - but that's another story). As I expected, many in-jokes were completed lost on me, but I didn't really mind.
Our main stumper in this room was figuring out which area to focus on first. Since I just read Errol Elumir's
article about "The Player Loop"
, I can now better express my feelings by saying we "struggled at finding the right gate". (Thanks Errol!) The biggest frustration here is that, due to a technical problem, some game elements were accessible to us right away, even though they shouldn't have been... and our game master forgot to tell us that. 😵
Anyway, a couple hints later, things settled back in place, and we came out victorious. I have no choice but to paraphrase Captain Patenaude himself:
« Like the great Julius Caesar used to say: Boy oh boy that was a close one! »
Oh, one last thing: upon exiting, we were met by Simon & Guylaine from
Les Fugitifs
, who took advantage of our presence in their hometown to come introduce us to the rest of the family. That explains the extra two "squirts" on the picture above. 😄
Lessons Learned (or re-learned):