"♫ Don't turn around, oh oh! Der Kommissar's in town, oh oh! ♫"
NOTE: J'ai reçu un rabais spécial pour cette salle.
Si vous n'êtes pas un habitué de ce blog, cliquez ici pour quelques explications et définitions...
Nom de la salle:
La Chambre-Forte
Emplacement:
# de joueurs:
4-8 (jouée avec 6)
Durée:
60 min
Contraintes:
Oui
- un joueur doit ramper dans un espace obscur
Langue:
Français
Indices:
5 (Donnés en personne, lorsque appelé en faisant signe à la caméra)
Décomptes:
14 verrous, 15 déductions, 6 tâches
Description officielle:
Des enquêteurs corrompus par le crime organisé ont fabriqué de fausses pièces à conviction pour incriminer des membres de votre équipe à la place des gens qu'ils veulent protéger. Les preuves seront acheminées au tribunal dans 60 minutes pour le déroulement du procès. Coup de chance, les gardiens de la chambres fortes sont en pause et c'est le temps ou jamais de passer à l'action. Il vous est maintenant impossible de rebrousser chemin donc vous devez absolument trouver une façon de vous échapper.
Vous devez absolument vous introduire dans la chambre forte du commissariat et retrouver ces pièces à conviction falsifiées qui incriminent vos amis avant la fin des 60 prochaines minutes. Si jamais vous échouez, non seulement des innocents seront condamnés mais vous serez pris au piège dans la chambre-forte du commissariat.
Découvrez également qui est derrière cette supercherie afin que justice soit faite !
Jouée durant:
Été 2019
Réussie?
OUI - Un peu moins de 5 minutes restantes - 2 indices utilisés
Verdict:
Même si j'aime arriver à mes jeux d'évasion à l'avance, ces derniers mois ont vu un certain nombres d'incidents où une mauvaise planification m'a fait arriver à la dernière minute. Cette fois-ci, alors que je répondais à l'invitation de Fred St-Jean des
Fugitifs
, j'ai nettement sous-estimé le temps requis pour prendre le traversier pour Sorel, et nous sommes arrivés sur place, en milieu d'après-midi, sans avoir eu le temps de dîner. 😩
Le plus ironique dans tout ça, c'est qu'il est possible de manger, à l'Emprise! Cette entreprise de jeux d'évasion, ouverte en 2016, a depuis ajouté un resto-pub ludique au rez-de-chaussée. J'aurais bien aimé en parler plus, étant moi-même un amateur de jeux de société, mais je n'ai même pas eu le temps d'y mettre les pieds. Zut.
On m'avait dit que La Chambre-Forte offrait la meilleure immersion, et c'est sans doute vrai. Le commissariat semblait crédible (quoi qu'on peut argumenter qu'il n'est pas difficile de créer un bureau de policier, même en y ajoutant une chambre forte*), et j'ai aimé suivre le déroulement de l'intrigue.
Honnêtement, notre sous-alimentation nous a clairement nui - nous étions plus grognons qu'à l'habitude - mais nous sommes quand même venu à bout de cette salle.
(*): J'en profite pour souligner que le mot "chambre-forte", avec un trait d'union, n'existe pas.
🤓
Leçons à retenir (ou à réviser):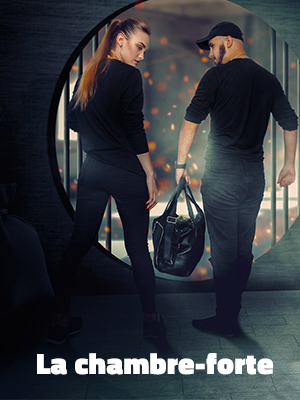 Photo thématique tirée du site web
Flavor picture from their website
NOTE: I received a special discount on this game.
If you're not familiar with my reviews, click here for some notes and definitions...
Room name:
La Chambre-Forte
Location:
# of Players:
4-8 (Played with 6)
Duration:
60 min
Constraints:
Yes
- One player needs to crawl into a dark space
Language:
French
Hints:
5 (Delivered in person, when called by waving at a camera)
Tally:
14 Locks, 15 Deductions, 6 Tasks
Official Description:
(See French description)
Played in:
Summer 2019
Made it?
YES - With a little under 5 minutes left - 2 hints used
Verdict:
Even though I do my best at showing up to Escape Rooms ahead of time, in recent months a number of poor planning incidents made show up at the last minute - or worse. This time, as I answered an invite from
Les Fugitifs
' Fred St-Jean, I clearly underestimated the amount of time required for the ferry down in Sorel, and we reached our destination in the middle of the afternoon, without any time for lunch. 😩
Ironically, it's possible to have a full meal down at L'Emprise! This Escape Room business, open since 2016, has since added a board game pub on its ground floor. I would've loved to talk to you about it in length - being very much into board games myself - but I didn't even have time to set a foot inside it. Drats.
I was told that "La Chambre-Forte" provided the best level of immersion, and that's likely true. The police station seemed believable (though one might argue it's not that hard to build a good-looking office, even if you add a large vault to it), and I enjoyed seeing the storyline progress along the way.
To be fully honest, our lack of sustenance definitely hindered us - we were all grumpier than usual - but we still managed to pull it through.
Lessons Learned (or re-learned):