Si vous n'êtes pas un habitué de ce blog, cliquez ici pour quelques explications et définitions...
Nom de la salle:
Week-end au Chalet
Emplacement:
# de joueurs:
2-6 (jouée avec 5)
Durée:
60 min
Langue:
Bilingue (jouée en français)
Indices:
Illimités (Donnés via un téléphone situé dans la pièce)
Décomptes:
12 verrous, 9 déductions, 3 tâches
Description officielle:
C'est le 30e anniversaire d'un de vos amis. Vous avez décidé de louer un chalet dans le nord pour fêter l'occasion. Vendredi après-midi, vous recevez un message vidéo vous incitant à arriver au plus vite pour profiter au maximum de l'endroit qui est absolument magnifique.
Le moment de votre arrivée annonce officiellement le début du party. C'est trop beau pour être vrai! Dans votre tête, rien ne peut venir gâcher le party du siècle. Malheureusement, il faut toujours prévoir le pire, aussi invraisemblable soit-il...
Jouée durant:
Printemps 2018
Réussie?
OUI - 10 minutes restantes - 1 indice utilisé
Verdict:
Quand on a un blog comme le mien, et qu'on se demande quelle salle sera la suivante, on se retrouve devant un dilemme: aller visiter un tout nouvel endroit, question d'en voir le plus possible, ou se fier à une "valeur sûre" qui nous offrira une belle expérience. Vous aurez peut-être deviné que c'est la deuxième option qui m'a ramené chez Immersia.
Je m'attendais à une autre belle expérience, et j'en ai eu pour mon argent. Non seulement cette salle va remplacer sa consoeur dans ma liste de Coups de Coeur, non seulement nous y avons fort bien performé (le meilleur groupe incluant des jeunes qu'ait vu notre accompagnateur), mais en plus nous avons pu essayer un ajout récent à la salle: une dimension olfactive. On nous conduit, les yeux fermés, vers le "chalet" du scénario, et soudain l'immanquable odeur des planches de pin nous remplit les narines.
Rajoutez à tout cela des décors bien faits, et de nombreux enregistrements audio & vidéo qui donnent à l'expérience une ambiance juste assez angoissante. En faisant mes décomptes, j'ai moi-même été surpris du faible nombre de tâches dans cette salle - je conclus que les éléments à fouiller, à lire et à regarder font en sorte qu'on n'a pas le temps de s'ennuyer entre les différentes énigmes. Chapeau!
Leçons à retenir: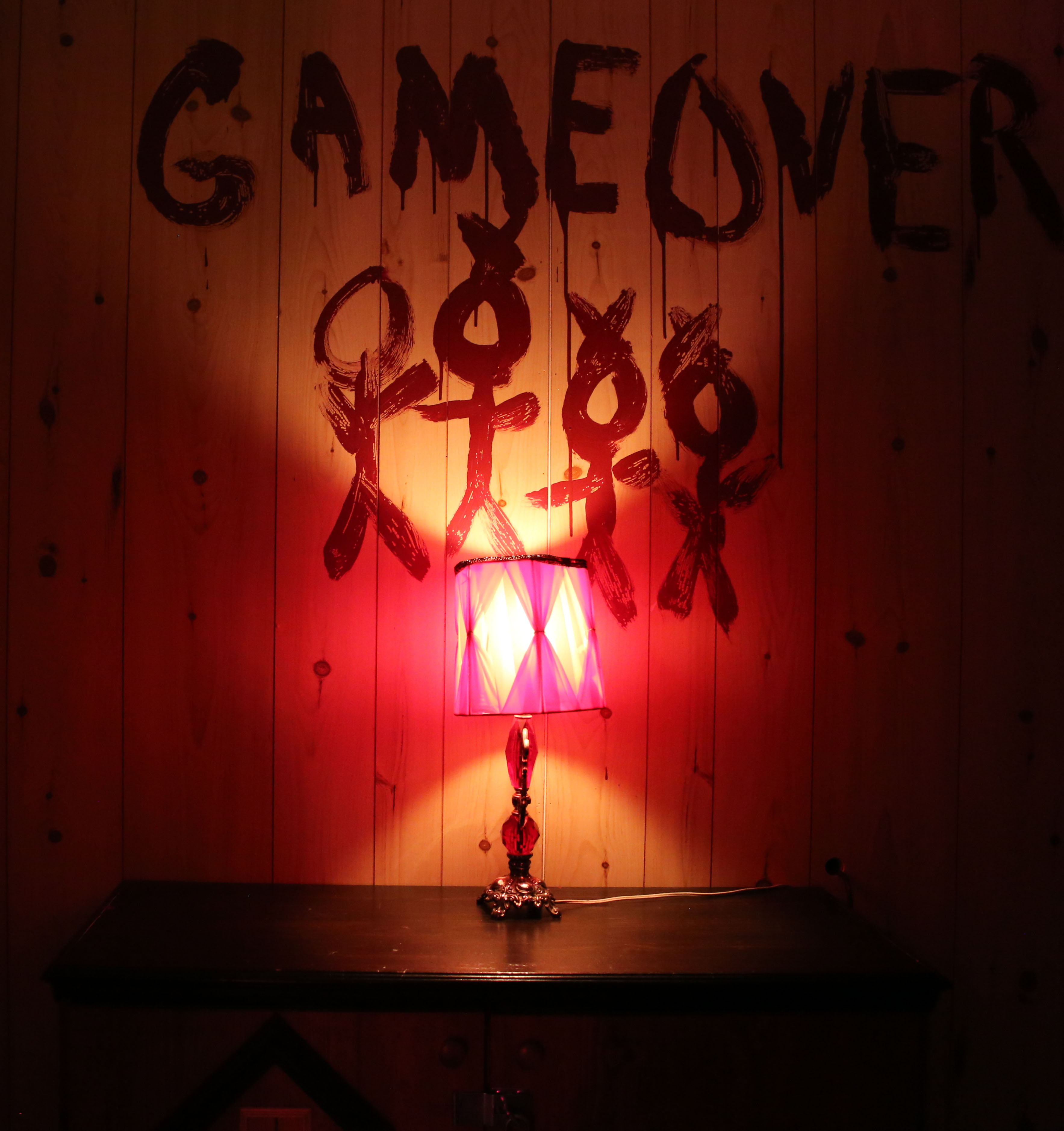 Photo de la pièce réelle tirée du site web
Actual room picture from their website
If you're not familiar with my reviews, click here for some notes and definitions...
Room name:
Weekend at the Shack
Location:
# of Players:
2-6 (Played with 5)
Duration:
60 min
Language:
Bilingual (Played in French)
Hints:
Unlimited (Delivered via an in-game phone)
Tally:
12 Locks, 9 Deductions, 3 Tasks
Official Description:
As part of your friend's 30th birthday, you've decided to rent a shack up north to celebrate the occasion. Friday afternoon you get a video message from your friends who have already made it and encouraging you to get there as quickly as possible to enjoy the beautiful environment over there.
The moment of your arrival will truly signal the start of the party but everything seems too good to be true. In your head, nothing can come between you and this crazy fiesta. Unfortunately, you always have to plan for the worst, as unbelievable as it can be...
Played in:
Spring 2018
Made it?
YES - With 10 minutes left - 1 hint used
Verdict:
When you're maintaining a blog like mine, and you're wondering where to go play next, you end up facing a dilemma: shall I visit some place I haven't yet been to, so I can broaden my experience, or just go for a "safe bet" that's sure to give us a great time. You might have guessed it's the latter that brought us to Immersia that day.
I was expecting yet another solid experience, and I got my money's worth. Not only will this room become the new "poster child" for this venue in my Faves list, not only did my team perform well (the best group including youngsters my attendant had seen, he said), but we were also able to try a new improvement to the room: an olfactory one. As we're led to the room, eyes closed, to the aforementioned "shack", and suddenly the smell of wood boards fills our nostrils.
Top the deal with well-made props, and several audio & video recordings that give just the right amount of dread to the game. As I worked on my usual tallies, I couldn't believe the low amount of "tasks" - my take on this is that with all the searching around, puzzle-solving, and all those things you see & hear, you just don't have time to get bored. Kudos!
Lessons Learned: