"♫ I can smell the chemicals ♫"
If you're not familiar with my reviews, click here for some notes and definitions...
Room name:
Zone 7
Location:
# of Players:
2-8 (6 recommended) (played with 4)
Duration:
60 min
Language:
Bilingual (Played in French)
Hints:
1 (Delivered in person, when called via a provided walkie-talkie), plus 2 "fixed hints" (given if players are still not pas a certain point at a certain time)
Tally:
15 Locks, 17 Deductions, 17 Tasks
Official Description:
The government is secretly operating an underground biological laboratory. A serious accident in one of the zones released a gas into the ventilation system. Quickly the air of all the sectors is affected. The staff will be affected with life-threatening paralysis after 60 minutes. Zone 7 team is spared since they were in a highly sophisticated room used for testing airborne infections and toxins.
The laboratory artificial intelligence detects movement in your sector and transmits the survival plan to your team.
All your colleagues will be dead in 60 minutes if you don't act quickly. You must release a gas antidote in the laboratory's air to neutralize the deadly paralyzing gas.
Played in:
Spring 2019
Made it?
NO
Verdict:
"Zone 7", Maître du Jeu's latest offer, is listed as their hardest room. I was bit worried about tackling it with a smaller team (and I was right about that), but that's how it was going to be.
Overall, I enjoyed the look and feel of the room. Of course, an industrial laboratory just isn't as impressive as
a ship's hold
, but the puzzles made good usage of the space, and for once, seeing all those padlocks on lockers made perfect sense. (In fact, the room contains a bunch of
fake
locks - easily recognizable - mixed along the real ones, for the sole purpose of justifying those. Nicely thought!)
The big surprise of my evening came to me in the endgame, when I found out that its "main computer" was...
the exact same I had once encountered
at now defunct company "Évasion Montréal"! That's right, the same computer that had malfunctioned on us, and on which of my teammates had ripped out a LED by mistake! (Two
completely unrelated
incidents, I say once again. 😅) In retrospect, I can now see some similarities between some of the puzzles I encountered in both rooms, but they are subtle enough one might not notice. I think I'm going to add a small note about this in my room directory, but I wouldn't say that this new room is a re-implementation. I believe anyone who played "Disarm the Bomb" can actually try out "Zone 7". Even that endgame isn't that much of a concern, since it's mostly about completing tasks rather than making deductions.
Case in point, my team ran out of time right as we were vigorously fiddling our way through the very last task. 😞 All we would've needed were a few extra minutes - or a couple extra players.
Lessons Learned (or re-learned):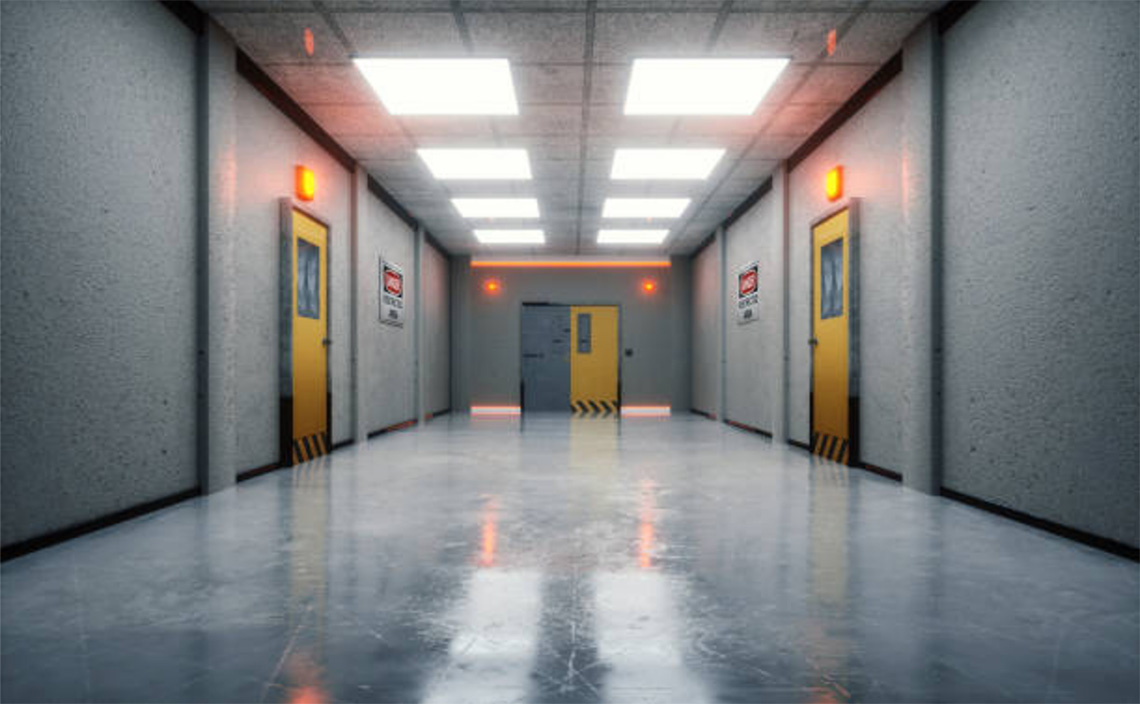 Photo thématique tirée du site web
Flavor picture from their website
Si vous n'êtes pas un habitué de ce blog, cliquez ici pour quelques explications et définitions...
Nom de la salle:
Zone 7
Emplacement:
# de joueurs:
2-8 (6 recommandés) (jouée avec 4)
Durée:
60 min
Langue:
Bilingue (jouée en français)
Indices:
1 (Donné en personne lorsque appelé via un walkie-talkie fourni),
plus 2 indices "fixes" (donnés si les joueurs n'ont pas atteint un certain point à un moment donné)
Décomptes:
15 verrous, 17 déductions, 17 tâches
Description officielle:
Le gouvernement opère secrètement un laboratoire biologique souterrain. Un accident grave dans une des zones relâche un gas dans le système de ventilation. Rapidement l'air de tous les secteurs est affecté. Le personnel est atteint d'une paralysie qui s'avère mortelle au bout de 60 minutes. L'équipe de Zone 7 est épargnée puisqu'elle était dans une salle hautement sophistiquée utilisée pour l'expérimentation des infections et toxines transmissibles par voie aérienne.
L'intelligence artificielle du laboratoire repère du mouvement dans votre secteur et transmet le plan de survie à votre équipe.
Tous vos collègues seront morts dans 60 minutes si vous n'agissez pas rapidement. Vous devrez libérer dans l'air du laboratoire un gaz-antidote afin de neutraliser le gaz paralysant mortel.
Jouée durant:
Printemps 2019
Réussie?
NON
Verdict:
"Zone 7", le "petit dernier" de chez Maître du Jeu, est présenté comme étant leur salle la plus difficile. J'étais un peu inquiet (et à raison) à l'idée de l'essayer avec une équipe réduite, mais je devais bien m'y faire.
En général, j'ai beaucoup apprécié l'ambiance de la pièce. Oui, un laboratoire industriel, ce n'est pas aussi impressionant que
la cale d'un bateau
, mais en général les énigmes faisaient bon usage des décors, et les nombreux cadenas présents semblaient - pour une fois - parfaitement à leur place. (En fait, la salle contient également tout un paquet de
faux
cadenas - aisément reconnaissables - qui côtoient les vrais, et qui servent essentiellement à renforcer la pertinence de ces derniers. Belle idée!)
La grande surprise de ma soirée est arrivée en fin de partie, quand j'ai découvert que "l'ordinateur central" final était...
le même qui servait autrefois
chez la défunte entreprise "Évasion Montréal"! Oui oui, celui-là même qui avait mal fonctionné, et sur lequel un coéquipier avait arraché un LED par mégarde! (Deux incidents non liés, je le répète. 😅) En y pensant bien, j'ai réalisé certaines autres similitudes entre cette salle et celle d'où provenait cet appareil, mais elles étaient assez subtiles pour qu'on ne s'en rende pas compte. Je pense ajouter une petite note d'avertissement dans mes bottins, mais n'irait pas jusqu'à dire qu'il s'agit d'une ré-implementation. Je crois que tous ceux qui ont essayé "Désarmer la Bombe" peuvent jouer à "Zone 7". Même cette phase finale n'est pas un problème, puisqu'il s'agit de tâches plutôt que de déductions.
Question de prouver ce que je viens d'affirmer, mon équipe a manqué de temps alors que nous "zigonnions" vigoureusement sur la toute dernière tâche. 😞 Ne nous manquait que quelques minutes - ou quelques joueurs - de plus.
Leçons à retenir (ou à réviser):