"♫ See them long trains run, and you watch them disappear ♫"
NOTE: J'ai reçu un rabais spécial pour cette salle.
Si vous n'êtes pas un habitué de ce blog, cliquez ici pour quelques explications et définitions...
Nom de la salle:
La Station Oubliée
Emplacement:
# de joueurs:
2-6 (jouée avec 4 - mettons)
Durée:
3 X 20 min
Langue:
Bilingue (jouée en français)
Indices:
1 par équipe, par "niveau" (donné aux 2 équipes, via haut-parleurs, lorsqu'une équipe appuie sur un bouton)
Décomptes:
15 verrous, 15 déductions, 18 tâches
Description officielle:
James Presswood est le PDG de la compagnie Simplon Orient Express. Il met sur pied une version moderne de ce mythique trajet.
Grâce à ce nouveau projet, M. Presswood a fait fortune. L'Orient Express est rapidement devenu le moyen de transport le plus couru d'Europe. Dans un élan de folie, un de ses employés en ingénierie décide de kidnapper sa famille contre une rançon de 50 millions d'Euros.
Afin de retrouver le plus rapidement possible sa famille, M. Presswood engage votre agence d'espions et il met à votre disposition une salle de contrôle abandonnée. Vous serez confronté à une course contre la montre puisqu'une autre agence a aussi été engagée pour la même mission. L'agence qui aura trouvé la famille de M. Presswood et fait arrêter le malfaiteur en premier recevra une récompense.
Jouée durant:
Printemps 2019
Réussie?
OUI - Un peu moins de 32 minutes (8 + 12 + 12) restantes - 3 indices utilisés
Verdict:
Ça y est, on y est: le moment décisif où nous allions établir l'identité
du meilleur blog
des meilleurs blogueurs
de la plus performante paire de blogueurs tirée au hasard. 😋
Mais commençons par la salle. De tout ce qu'a pu produire Immersia à ce jour, cette paire de salles est définitivement ce qu'il y a de plus sobre. Évidemment, un effort a été mis sur les décors, mais cette salle de contrôle désuète n'est pas faite pour impressionner. Ce qu'on remarque rapidement, c'est que plusieurs éléments de la pièce portent des couleurs criardes (rouge, vert, bleu). C'est parce que la salle est conçue pour être jouée en trois parties de 20 minutes chacunes, chaque couleur se rapport à un chapitre spécifique. (Je me suis d'ailleurs demandé si cette salle ne devrait pas compter pour trois, puisqu'on y joue vraiment 3 jeux distincts avec des limites de temps séparées. 🤔 Une bonne façon d'augmenter rapidement son nombre de parties jouées! 🤩 Je me suis finalement ravisé puisqu'il n'est pas possible de réserver pour un chapitre à la fois. 😇)
J'ai apprécié l'expérience. Oui, c'était un peu trop facile à mon goût, mais le stress d'affronter une autre équipe en temps réel suffit à rendre l'expérience mémorable. Durant la première visite, on explore un peu plus, on se familiarise avec les lieux, ce qui nous rend plus efficaces dans les jeux suivants (et n'est pas désagréable comme sensation). Je sais qu'il est aussi possible de "jouer contre une intelligence artificielle", mais j'ignore en quoi ça consiste précisément.
Bon, maintenant on parle de notre petite compétition amicale? Comme je l'ai dit, des équipes ont été formées au hasard. Je me suis retrouvé avec Frédéric St-Jean des
Fugitifs
. Ni lui ni moi n'étions particulièrement compétitifs, donc pas de pression. Marc Raymond des
Captivés
, s'étant retrouvé avec Guillaume des
Évadés en Cavale
, a eu la "brillante" idée de nommer leur équipe "Fred & Gilles". Nous avons donc choisi de nous appeler "Jess & Guylaine", et ainsi de suite. Il n'y a que Simon et Dany qui se nommaient
vraiment
"Dany & Simon". Suivez-vous toujours? Sur le coup, ça semblait rigolo... mais certaines équipes ont fini par le regretter durant le jeu, puisque les indices étaient entendus des deux équipes, et commençaient de cette manière: "ÉQUIPE FRED ET GILLES: ..." Disons qu'il y a eu méprise plus d'une fois. 😆
Ne manque que la mélodie de "The Brady Bunch"
D'abord, chaque équipe a joué la première partie, et le temps de sortie a servi de qualification pour la "demi-finale" qu'était le niveau 2. À notre grande surprise, Fred et moi nous sommes rendus compte que nous avions
vraiment
une chance de gagner, et nous avons mis les bouchées doubles durant la ronde finale...
TADAAAAAM!
Heu, oui, on se souvient que nous (Gilles et Fred) ne sommes
pas
l'équipe "Fred & Gilles" (qui a fini 2e). On a gagné! Qui l'eût cru?
D'aucuns pourraient souligner que l'équipe de Marc et Guillaume a utilisé moins d'indices. À ça je répondrai qu'il n'y a aucune gloire à ne pas utiliser un outil à sa disposition. Tant qu'à ça, allons-nous dire: "Pfft! Moi je l'ai fait sans utiliser la lampe de poche fournie!" ? 😋
Oh! Et si vous vous demandez le pourquoi des cases vides, un dernier détail: durant les 2 premières rondes, chaque équipe peut continuer après avoir été battue, mais la dernière ronde prend fin dès qu'une équipe est victorieuse.
Leçons à retenir (ou à réviser):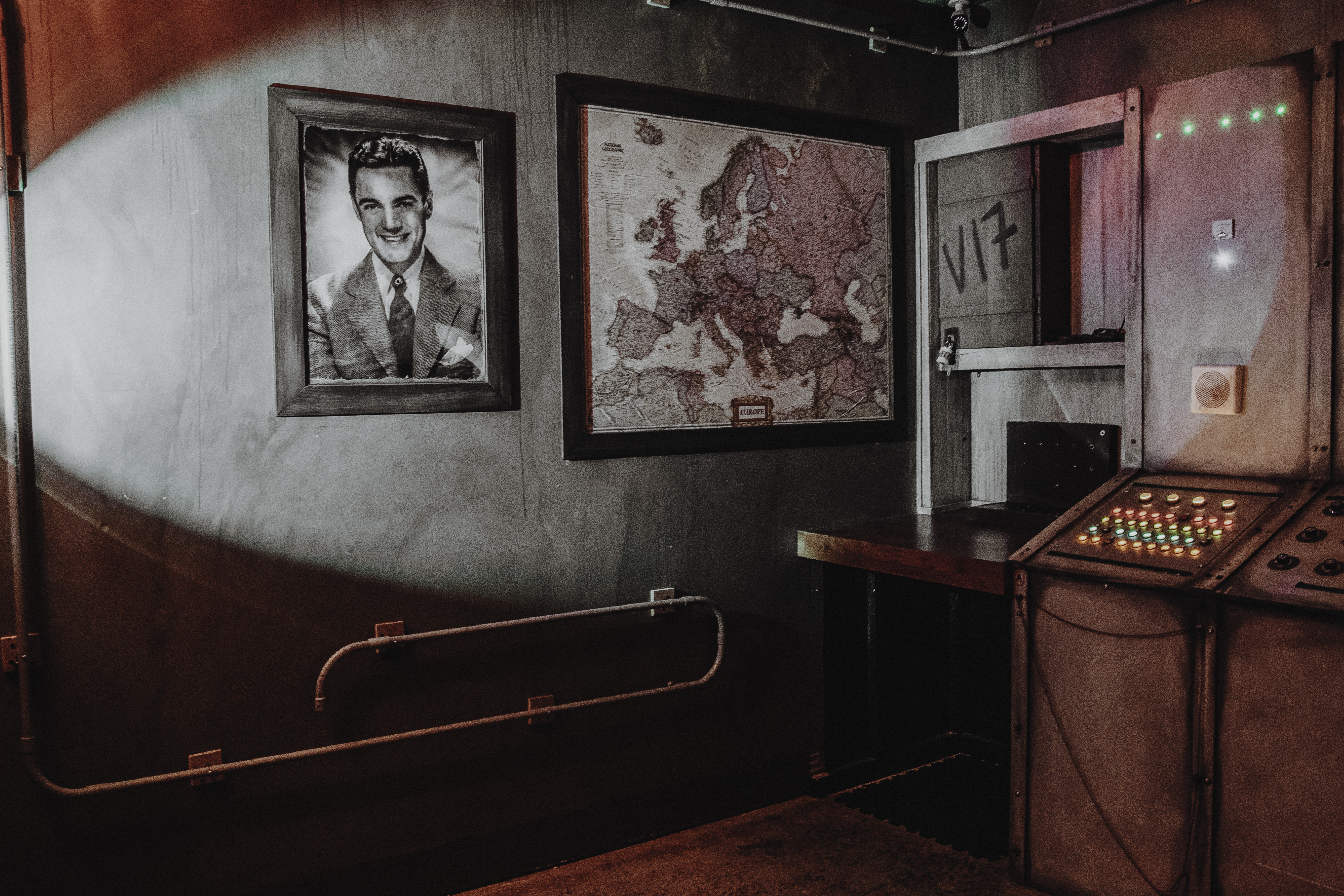 Photo de la salle réelle tirée du site web
Actual room picture from their website
NOTE: I received a special discount on this game.
If you're not familiar with my reviews, click here for some notes and definitions...
Room name:
The Forgotten Station
Location:
# of Players:
2-6 (Played with 4 - kinda)
Duration:
3 X 20 min
Language:
Bilingual (Played in French)
Hints:
1 per team per "level" (Delivered on the push of a button, through speakers, so both teams can hear)
Tally:
15 Locks, 15 Deductions, 18 Tasks
Official Description:
James Presswood is the CEO of the Simplon Orient Express company. He created a modern version of this mythical railroad track.
Mr Presswood has generated a fortune with this new project. The Orient Express quickly became the most popular mode of transportation in Europe. In an unexpected turn of events, one of his engineering employees decided to kidnap his family and is asking for a 50 million euros ransom.
In order to save his family as quickly as possible, Mr Presswood hired your spy agency and has given you access to an abandoned control room. You will be racing against the clock, because another agency was also hired for the same mission. The agency that will be first to save Mr Presswood's family and have the wrongdoer arrested will get the reward.
Played in:
Spring 2019
Made it?
YES - With a little under 32 minutes (8 + 12 + 12) left - 3 hints used
Verdict:
This is it, folks: the fateful day where would finally figure out
which blog
which blogger
which randomly matched pair of bloggers 😋 was the best.
Anyway, let's start with the room. Of everything Immersia created up to this day, this pair of rooms is definitely their plainest work. Of course, they still put their usual effort on settings, but this shabby control room just isn't made to impress. The one thing that pops out at first glance is the fact that several components have bright colors on them (red, green, blue). That's because the room is actually meant to be played in three bouts of 20 minutes each, with each color corresponding to a specific one. (In fact, I seriously pondered whether this room should show up as three in my stats, because players really do end up playing 3 distinct sessions with independant time limits. 🤔 Now there's a nice way of quickly increasing your number of games played! 🤩 In the end I only decided against it because players aren't allowed to book and play the games separately. 😇)
I enjoyed my experience. Yes, it felt a bit too easy for my usual tastes, but the stress of being measured against other players, in real time, suffice in making the whole experience memorable. During that first visit, we tend to look around a bit more, getting familiar with our surroundings, and we slowly become more efficient in the follow games (which feels pretty good). I know it's also possible to "play against an AI", but I have no clue as to what it spefically entails.
Alright, now moving to that friendly challenge of ours? Like I said, teams were paired at random. I ended up with Frédéric St-Jean from
Les Fugitifs
. Neither of us felt particularly competitive, so there was no pressure to perform. Marc Raymond from
Les Captivés
, having been paired with Guillaume from
Évadés en Cavale
, had the brilliant idea of named their team "Fred & Gilles". Consequently, we chose "Jess & Guylaine" for our own name, and so on. Only Simon and Dany opted for "Dany & Simon". Are you still with me? The whole thing seemed quite funny at the time... but a few teams ended up regretting their choice during the game itself, because hints were always given out loud to both teams, and would start off with "FRED AND GILLES TEAM: ..." Let's just there were a couple mix-ups along the way. 😆
Each team started by playing the first level, with exit times used to as qualifiers for the "semi-final" that was the second chapter. Much to our collective surprise, Fred and I realized that we
actually
had a chance at winning this, so we stepped into high gear for the final round...
TADAAAAA!
Er, yeah, let's not forget that we (Gilles and Fred) are
NOT
team "Fred & Gilles" (who finished 2nd). We actually won! Who would've thought?
Some might argue that Marc and Guillaume's team used less hints than we did. To that I'll respond that there is no glory whatsoever in failing to leverage a tool at your disposal. While you're at it, why not say "Pfeh! Well,
I
did it without using the provided flashlight!" ? 😋
Oh, and if you're wondering about those empty squares, do note: in the first 2 games, a team can keep playing even after having been bested, but the final chapter ends as soon a single team wins.
Lessons Learned (or re-learned):