If you're not familiar with my reviews, click here for some notes and definitions...
Room name:
Treasure of the Templars
Location:
# of Players:
4-6 (Played with 6)
Duration:
60 min
Constrained:
Yes
- Players must share a couple (electrical) candlesticks while exploring the poorly-lit room
Language:
Bilingual (Played in English - although it wasn't available yet)
Hints:
2 (Delivered in person, when called through a provided walkie-talkie)
Tally:
11 Locks, 16 Deductions, 12 Tasks
Official Description:
Although he is not with us today, you have always had an unusual relationship with your grandfather. When you were with him, he told you stories of corrupt kings, cursed knights and legends that only he knew. How many times did he tell you the story of Jacques de Molay, the 25th Master of the Order of the Temple, as well as the legend of his execution ...
The legend says before coming to the pyre Jacques de Molay gave a piece of parchment and a metallic sphere to a child telling him that he had to find the treasure of the order. Treasure hunts and riddles, the moments spent with your grandfather were nothing ordinary. He loved to entertain you and never ceased to say that he was shaping you ... that one day you will understand.
Several years have passed. Most of your memories have faded but you still remember that according to the legend, the secret chamber of the Templars must be opened for the last time today.
It is for this reason that you went with your most precious friends to the museum of the Castle of Tomar out of curiosity and amusement...
Played in:
Summer 2017
Made it?
YES - With the treasure - About 15 minutes left - 1 hint used
Verdict:
Almost a full year went by between my first and second visit to Maître du Jeu, but I only waited a couple weeks before going again. This time, we went to try out their brand new room, which is (admittedly) still being tweaked for difficulty, so your own experience might differ from us a bit. Another thing to point out (and that I missed 😖) is that the room is still French-only as I write this. Fortunately there were only a couple things to translate for our unilingual team member.
MdJ seems to make a point of not being about "just escaping". This time around, the goal is to escape the room with the treasure, although it's possible to leave without it, which I guess would count as a partial victory.
Not much else to say beyond that. There was a good mix of classic and original puzzles, and once again our group was described as "best we've seen thus far". 😎 (Although my own contribution was a bit light, as my group pointed out. 😝)
Lessons Learned: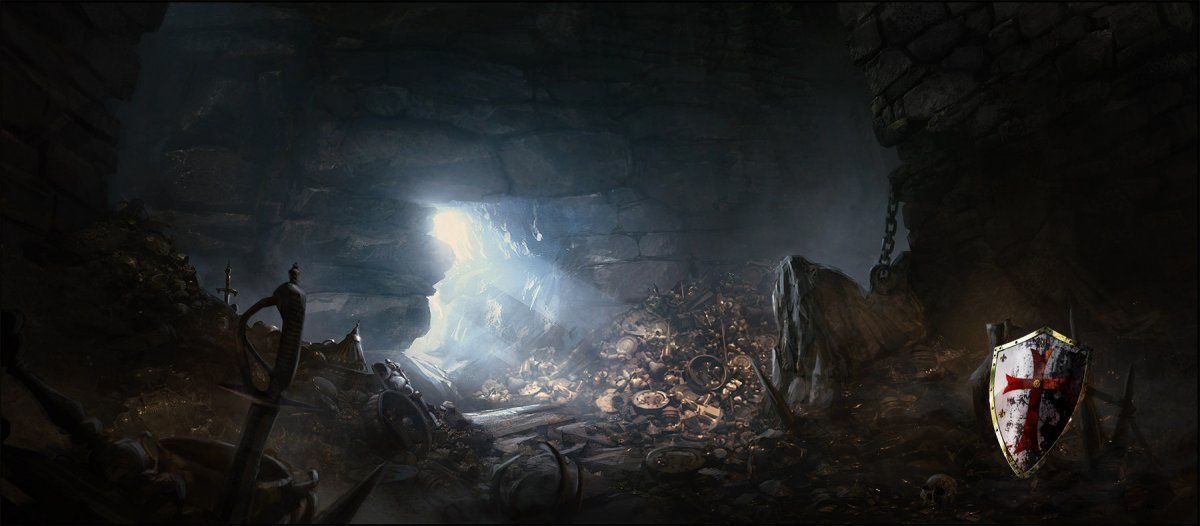 Photo thématique tirée du site web
Flavor picture from their website
Si vous n'êtes pas un habitué de ce blog, cliquez ici pour quelques explications et définitions...
Nom de la salle:
Le Trésor des Templiers
Emplacement:
# de joueurs:
4-6 (jouée avec 6)
Durée:
60 min
Contraintes:
Oui
- les joueurs doivent se partager deux chandelles (électriques) pour explorer la salle faiblement éclairée
Langue:
Bilingue (jouée en anglais - même si ce n'était pas encore possible)
Indices:
2 (Donné en personne, lorsque appelé avec un walkie-talkie fourni)
Décomptes:
11 verrous, 16 déductions, 12 tâches
Description officielle:
Bien qu'il ne soit plus des nôtres aujourd'hui, vous avez toujours eu une relation hors du commun avec votre grand-père. Lorsque vous étiez avec lui, il vous racontait des histoires de Rois corrompus, de chevaliers maudits et des légendes que lui seul connaissait. Combien de fois vous a-t-il raconté l'histoire de Jacques de Molay, 25ième Maître de l'ordre du Temple, ainsi que la légende de son exécution...
Celle-ci veut qu'avant de monter sur le bûcher Jacques de Molay ait donné un bout de parchemin et une sphère metallique à un enfant en lui disant qu'il devait trouver le trésor de l'ordre. Chasses aux trésors, énigmes et devinettes, les moments passés avec votre grand-père n'avaient rien d'ordinaires. Il adorait vous divertir et ne cessait de dire qu'il vous formait... que vous comprendrez un jour.
Plusieurs années ont passées. La plupart de vos souvenirs se sont évaporés mais vous vous souvenez toujours que selon la légende, la chambre secrète des templiers doit être ouverte pour la dernière fois aujourd'hui même.
C'est pour cette raison que vous vous êtes rendu avec vos amis les plus précieux au musée du Château de Tomar surtout par curiosité et amusement...
Jouée durant:
Été 2017
Réussie?
OUI - Avec le trésor - Environ 15 minutes restantes - 1 indice utilisé
Verdict:
Il s'est presque écoulé une année entière entre ma première et ma seconde visite chez Maître du Jeu, mais il n'aura fallu que quelques semaines avant que j'y retourne à nouveau. Cette fois, nous sommes allés essayer leur toute nouvelle salle, qui au moment d'écrire ces lignes est toujours en période de rodage (aux dires même de nos hôtes). Votre expérience pourrait donc différer quelque peu de la nôtre. Un autre détail (qui m'avait échappé 😖) est que la salle n'est officiellement pas encore bilingue. Heureusement, il n'y a pas eu trop de texte à traduire pour notre unique coéquipier anglophone.
MdJ semble se faire un point d'honneur de ne jamais se contenter d'une "simple" évasion. Cette fois, les joueurs doivent s'enfuir de la salle en emportant le trésor avec eux, même s'il est possible de s'enfuir les mains vides, ce qui je crois constitue une victoire partielle.
Je n'ai pas grand chose à ajouter. Cette salle offre un bon mélange d'énigmes originales et plus classiques... ah, et une fois de plus on a dit de notre groupe qu'il était "le meilleur à date". 😎 (Bien que ma propre contribution n'a pas été si impressionnante que ça, comme mon groupe n'a pas manqué de me faire remarquer. 😝)
Leçons à retenir: