If you're not familiar with my reviews, click here for some notes and definitions...
Room name:
Escape the Diefenbunker
Location:
# of Players:
2-12 (Played with 12)
Duration:
60 min
Language:
Bilingual (Played in English)
Hints:
3 (Delivered in person, when called via a set of linked walkie-talkies)
Tally:
17 Locks, 14 Deductions, 20 Tasks (app.)
Official Description:
You are on the final guided tour of the day, when you and your friends duck into a room and hide so that you can spend a night at the museum. You soon discover that it is not a museum at all. It is actually a cover for an enemy spy organization. You overhear some people talking behind closed doors of an imminent attack scheduled for tonight! You must escape! But first, you must find the communications room, stop the launch sequence and phone-in the Red Alert transmission to the outside world before it is too late! 12 people, 60 minutes. Do you have what it takes to save the world?
Played in:
Spring 2018
Made it?
YES - With about 10 minutes left - no hint used
Verdict:
If you live in the Ottawa area, you've probably heard of the Diefenbunker already. Perhaps you even visited it. For those who have no clue what I'm talking about, back in late 50s, Prime Minister Diefenbaker commissioned the construction of a 4-story anti-nuclear underground bunker, on a farmstead in a small village west of Ottawa. It was designed to host a core government in case of a nuclear conflict. For over 30 years, the bunker was used by the military, until the end of the Cold War brought up its decommission. Just a few years later, the bunker was turned into a
Cold War Museum
. Escape Manor, always prompt to spot a good setting, began hosting an escape game on site (the first of several others, including a museum and a prison).
The conference room where the game begins
La salle de conférence où commence l'aventure
Credits: Z22 -

Own work

, CC BY-SA 3.0, Link
After a nice introductory video, the players are instructed to search for 3 envelopes which contain instructions for teams of various difficulty level (Alpha / Easy, Bravo / Moderate, Charlie / Hard). We're then invited to split ourselves into teams and get going. Every envelope has a map to help the team figure out where they should be going next. I've previously stated that I prefer free exploration over being railroaded, but given that the game area is roughly 10,000 sqft (across the entire top level) I sure won't complaint this time. For the most part, players are left to their own device, and aside from the clues and lockboxes, the only tempering of the play area is a series of portable speakers playing suspenseful background music across the floor. That last touch helps to maintain the suspense without breaking the sense of immersion.
Since this is a 12-player room, I had to expand our regular monthly group by adding a couple enthusiasts brought in by my friends. I was afraid the regulars might end up a bit too "hardcore" for them to have a good time 😀, but the feedback I gathered was positive. And as it's been pointed out to me beforehand, let me say it would be fairly easy to replay this adventure (just pick a different team, and keep quiet during the final puzzles). After trying both this and "Back to the Fossils" in a short period, I've decided the bunker would ultimately win a recently vacated spot in my list of Favorites.
Lessons Learned: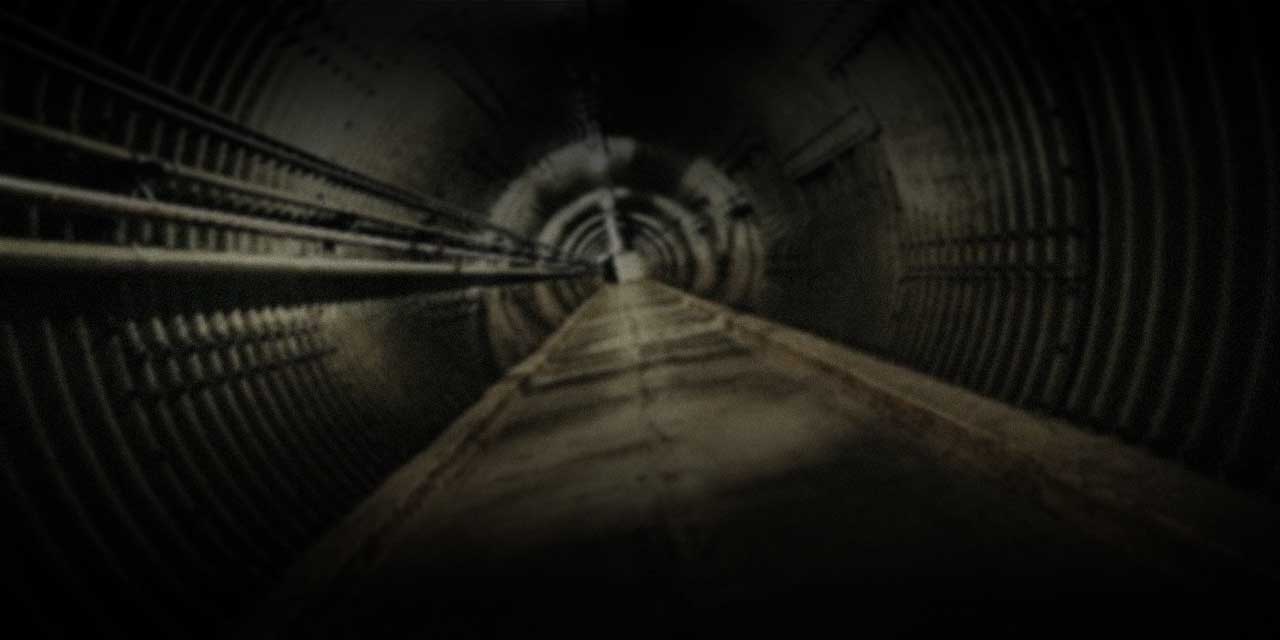 Photo du bunker tirée du site web
Bunker picture from their website
Si vous n'êtes pas un habitué de ce blog, cliquez ici pour quelques explications et définitions...
Nom de la salle:
Escape the Diefenbunker
Emplacement:
# de joueurs:
2-12 (jouée avec 12)
Durée:
60 min
Langue:
Bilingue (jouée en anglais)
Indices:
3 (Donnés en personne, lorsque appelé avec des walkie-talkies liés entre eux)
Décomptes:
17 verrous, 14 déductions, 20 tâches (app.)
Description officielle:
(Voir version anglaise)
Jouée durant:
Printemps 2018
Réussie?
OUI - Environ 10 minutes restantes - aucun indice utilisé
Verdict:
Si vous habitez la région d'Ottawa, vous connaissez probablement déjà le Diefenbunker, et l'avez même peut-être déjà visité. Et pour ceux qui n'ont aucune idée de quoi je parle, sachez qu'à la fin des années 50, le Premier Ministre Diefenbaker a lancé la construction d'un bunker anti-nucléaire de 4 étages, sur le site d'une ancienne ferme, dans un petit village à l'ouest d'Ottawa. Conçu pour abriter un noyau gouvernemental dans l'éventualité d'un conflit nucléaire, il a été utilisé par l'armée durant plus de 30 ans, jusqu'à ce que la fin de la guerre froide le rende moins pertinent. Quelques années plus tard, il a été recyclé en un
Musée de la Guerre Froide
. Escape Manor, sentant la bonne affaire, a créé un partenariat pour y faire un jeu d'évasion (le premier de plusieurs autres, dont un musée et une prison).
Après une petite vidéo d'introduction, les joueurs sont invités à trouver 3 envelopes qui contiennent des directives pour des équipes de forces variées (Alpha / Facile, Bravo / Moyen, Charlie / Difficile). Nous devons ensuite former ces trois équipes avant de nous lancer à l'aventure. Chaque envelope contient un plan pour aider les joueurs à trouver quelle sera leur prochaine destination. J'ai récemment affirmé que je préférais l'exploration libre à un trajet forcé, mais si on considère que la surface de jeu est d'environ 10 000 pieds carrés (à travers l'étage supérieur tout entier), ce n'est pas moi qui vait se plaindre cette fois. En règle générale, les joueurs sont laissés à eux-mêmes, et mis à part les boîtes cadenassées et les divers indices, la seule modification faite au site est l'ajout de stations avec des haut-parleurs qui propagent une musique angoissante sur tout l'étage. Ce dernier petit détail aide à maintenir le suspence sans pour autant nuire au sentiment d'immersion.
L'étage entier où se déroule la partie
The whole floor where the game is played
Credits: Docomomo Ontario
Puisqu'il s'agit d'une aventure pour 12 joueurs, j'ai dû augmenter les effectifs de mon groupe mensuel en recrutant quelques joueurs enthousiastes invité(e)s par mes amis. Je redoutais que nous ne soyons un peu trop "intenses" pour ces derniers 😀, mais je n'ai reçu que des commentaires positifs. Comme on me l'avait déjà fait remarquer, je souligne qu'il serait assez facile d'y retourner, en choisissant une autre équipe et en laissant les autres faire la section finale. Ayant essayé cette salle et "Back to the Fossils" en l'espace de quelques jours, j'ai finalement décidé que c'est le bunker qui allait se mériter la place récemment laissée vacante dans mes Coups de Coeur.
Leçons à retenir: